WHAT IS THE AGUAPALLET?
The AguaPallet is a hollow rotationally moulded pallet for delivering humanitarian aid, that can be transformed into a hand cart and a mobile water container.
Containing up to 70 litres of water, an AguaPallet can supply enough water in a single trip for a family for a whole day.
Using AguaPallets to transport aid also improves logistical efficiency because the pallet itself, normally a logistical overhead, is part of the final aid package.
A BRIEF PROJECT HISTORY
By Shaun and Moira Craill
LoooP Creative Ltd
In 2014 we were co-winners of the Socialab and UNICEF Global Innovation Challenge 'The First 72 Hours'.
UNICEF were looking for ideas to help people in the first 72 hours after a disaster.
As a family we went through the Christchurch earthquakes, so we have a lot of empathy for people who suddenly find themselves caught up in a disaster.
This is one of the things that motivated us to want to enter and to apply our expertise as product designers on this challenge.
The competition drew about 300 entries from 50 countries and went through 3 rounds of eliminations before ending in a final pitch to a panel of experts.
UNICEF provided much needed seed funding to get us underway, which we used to build a proof of concept prototype.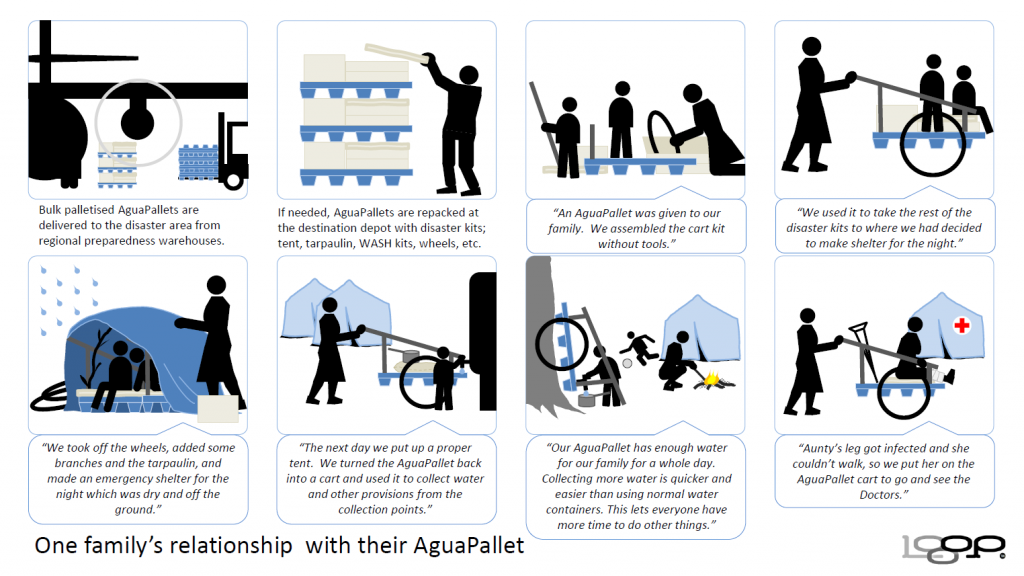 In 2015 we took the lessons learned from the prototype and refined the design further.  We have also put a bit more time into team building.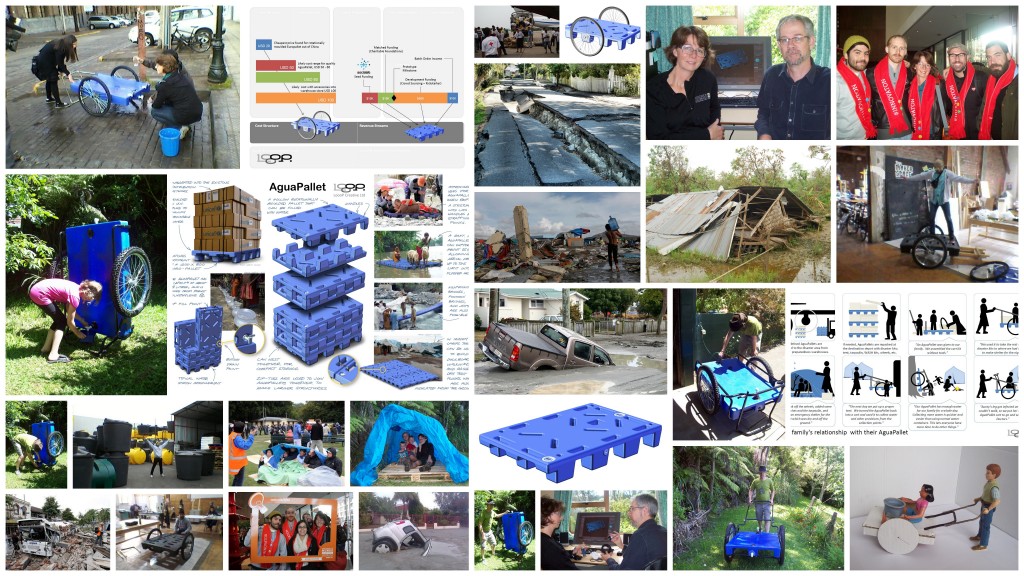 We are delighted to welcome the Auckland University of Technology (AUT) School of Engineering onto the team, who are providing much needed depth in mechanical engineering, prototyping and testing.  The AguaPallet was used by AUT as a student design project, where 150 students in 30 teams of 5 looked at the design challenges of one of 3 different end use scenarios.  Some of this creative work is showcased on the blog page.
In 2015 LoooP Creative Ltd and the AguaPallet Project was accepted onto the Autodesk Entrepreneur Impact Partner Program, which has supplied us with an incredible suite of product design software and great networking opportunities with other companies and individuals doing like-minded work.

In 2016 the AguaPallet Project was selected as a finalist in the ASME ISHOW innovation competition held in Washington DC.  This global competition is run by the American Society of Mechanical Engineers and is for product ideas that have social impact.  The AguaPallet came 2nd in the fan-favourite social voting stage of the competition, which was a huge confidence boost for the team going into the final pitching event in mid-June.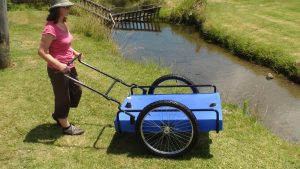 We have been genuinely humbled by the positive response we have received from virtually everyone we've approached for advice and technical support.  We wish to acknowledge the support of the following organisations: